Protecting Time® LLC, America's preeminent resource for productivity improvement, announces the availability of its first iPhone application:  The Distraction Timer.
Developed in partnership with Florida-based DiSalvo Technologies, the Distraction Timer is designed to help users track the amount of time wasted on daily distractions and interruptions.  Manhattan-based Protecting Time® has already introduced an Interruption Analyzer and High-Payoff Time Calculator for the iPad.
"Distractions and interruptions can wreck the best-planned day," says Protecting Time's Jim Moore.  "The average person loses more than three hours per day to random distractions – a ringing telephone, an e-mail chime, have-a-minute encounters with others, reading junk mail – and the Distraction Timer is a terrific, cost-effective way to track that wasted time and create awareness of the hours slipping away."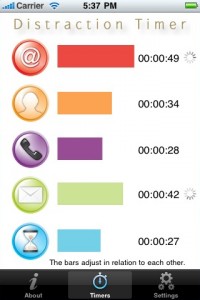 Developer John DiSalvo notes that the Distraction Timer generates a pictographic representation of the day's interruptions and distractions.  "At the end of the day," DiSalvo says, "you can see what distracted you most … and more importantly, see where the time went."
Moore believes the $.99 application will help users better appreciate the value of their time.  "Time is not an infinite resource," Moore says, "although many people treat it that way.  All we've done is make it possible for someone to track the time they waste on specific distractions.  Focus is the key; we believe that it's not how hard you work that counts, but what you get done."
Protecting Time® markets innovative productivity-enhancement programs to professionals and staff in medical, chiropractic and dental practices, law offices, and to management teams and executives.  The company is represented nationally by a network of authorized Licensees.
DiSalvo Technologies is a Florida software development company based in Orlando.
Download the app now:
http://itunes.apple.com/app/distraction-timer/id395130967?mt=8
Contact:  http://www.protectingtime.com