Developed in partnership with Florida-based DiSalvo Technologies, the High Payoff Time Calculator is designed to help users spend more of their high-value time on high-payoff activities.  Manhattan-based Protecting Time® has already introduced an Interruption Analyzer application, and intends to release a Distraction Timer for iPhone users later this summer.
"Many people confuse hard work with results achieved," says Jim Moore, founder of Protecting Time®.  The reality is that most of us spend very little time each day on the things that produce the greatest benefit to our enterprise.  Our High Payoff Time Calculator allows users to see just how much time they're spending on the things that really matter.  When you focus on increasing your High Payoff time, you can often produce four or five times as much benefit to yourself and your organization."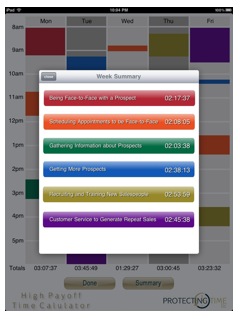 First made available in a Protecting Time® program called Protecting Professional Time, the High Payoff Time Calculator allows the user to create up to six High Payoff activities, then monitor the amount of time actually spent in those areas.
"If you work a ten-hour day," Moore says, "you may be spending two hours or less on High Payoff items.  If you correctly plan your day and manage your time according to achievement priorities, you can become up to 500% as effective as you already are."
Developer John DiSalvo notes that the High Payoff Time Calculator allows the user to create a pictographic representation of a full week of work activity.  "At the end of the week," DiSalvo says, "you can see how every day was actually spent … and more importantly, see where the time went."
Moore believes the $2.99 application will help users better appreciate the value of their time.  "Time is not an infinite resource," Moore says, "although many people treat it that way.  All we've done is make it possible for someone to track the time spent to achieve specific results.  We believe that it's not how hard you work that counts, but what you get done."
Protecting Time® markets innovative productivity-enhancement programs to professionals and staff in medical, chiropractic and dental practices, law offices, and to management teams and executives.  The company is represented nationally by a network of authorized Licensees.
DiSalvo Technologies is a Florida software development company based in Orlando.
Download the app now:
http://itunes.apple.com/app/high-payoff-time-calculator/id383598431?mt=8
Contact:  http://www.protectingtime.com
Jim Moore
Protecting Time LLC
347 640 2323