WINTER GARDEN, FL – March 8, 2010 – Orlando based software development company DiSalvo Technologies, LLC announced the release of its first iPhone application named "Find the Time".
"We are so thrilled to offer this simple yet powerful app that allows people to uncover hidden time in their weekly lives," said co-developer, JR Silva.
"Find The Time" is a simple application that helps you figure out if you are over loaded or if you have extra time hidden in your weekly schedule. Going through each section (work, sleep, family, personal, and other) and entering the hours for each day of the week will give you a complete picture of how you are spending your time. A clear colorful pie chart and informative total values give you a clear summary of how you live your life.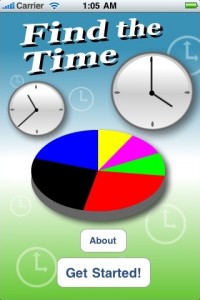 "We all have busy schedules and it's very surprising when you see your own colored chart that shows the amount of time you spend on all parts of your week. Finding FREE time is the exciting part", said software co-developer John DiSalvo.
Modestly priced in tier 1 at $0.99, "Find The Time" is a time calculator and time management tool for the iPhone and iPod touch. It allows users to update and navigate through 5 screens and enter the amount of time, Monday through Friday, for each category. Enter whole numbers for a general total of your time. Enter decimals for a more refined exact total. A results screen adds up all the values entered and shows the totals on a colorful pie chart. A "Start Again" button allows users to loop around and change data saved on the previous 5 screens. All the data is safely saved in the device's memory. No internet connection is required to run the app.
"This is the first of many applications we are working on. Even with over 180,000 apps in the Apple iTunes App store there is still plenty of room for new and exciting ideas", said software co-developer John DiSalvo.
Get the iPhone App Now:
http://itunes.apple.com/us/app/find-the-time/id360545906?mt=8
###
About DiSalvo Technologies, LLC:
DiSalvoTech is an Orlando area based information technology company specializing in iPhone App development, mobile website development, database development, website design, hosting, and a wide range of technical support. DiSalvoTech offers the best of both worlds – bridging the gap between advertising agencies and internet service providers. The expert consultants at DiSalvoTech have been providing quality solutions for many years resulting in a long list of satisfied customers. DiSalvoTech keeps its "ear to the ground" and are on the cutting edge of computer and internet technology.
Contact:
John DiSalvo
DiSalvo Technologies, LLC
2303 Wintermere Pointe Dr.
Winter Garden, FL 34787
Cell: 407-497-4075
john.disalvo@disalvotech.com
http://www.disalvotech.com
"Providing top quality solutions with premium customer support!"