FOR IMMEDIATE RELEASE:
DiSalvo Technologies offers "Pure Words of Encouragement"
WINTER GARDEN, FL – May 22, 2010 – Orlando based software development company DiSalvo Technologies, LLC, in partnership with artist A.J. Alley, announced the release of its next iPhone application named "Pure Words of Encouragement".
"I'm filled with an excitement I've never felt before about all the awesome cartoons that we will be able to share with users via this app," said artist, A.J. Alley.
"Pure Words of Encouragement" is a simple application that displays a new original cartoon by artist A.J. Alley every day. Each cartoon includes a positive message that helps give you a boost in your day. Brighten your morning, day, or evening. Feel yourself lifted up and stimulated spiritually. See the world as a place of encouragement!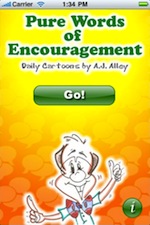 "We are so lucky to be able to partner with such talented people", said software developer John DiSalvo. DiSalvo continues, "Looking through the cartoons provides such a positive springboard for any time of the day."
Priced at $1.99, "Pure Words of Encouragement" for the iPhone is a wonderful lifestyle enhancing application. Enjoy a new cartoon image for 365 days (366 on a leap year). The same images repeat again each year. Miss a few days? Not a problem. The cartoon image browser allows you to see cartoons seven days back. Convenient previous, next, and today buttons allow you to navigate effortlessly between the cartoons. You also have the option to swipe your finger left and right on the screen to navigate to previous and next images. An internet connection is required to run the app.
Get the iPhone App Now:
http://itunes.apple.com/app/pure-words-of-encouragement/id373004578?mt=8
###
DiSalvo Technologies, LLC is an Orlando area based information technology company specializing in iPhone/iPad App development, mobile website development, database development, website design, hosting, and a wide range of technical support.
A.J. Alley is an Orlando area artist. Since his childhood, Alley has been recognized for his artistic abilities. Alley's story reaches back to when his Grandmother created an art gallery for him!
Contact:
John DiSalvo
DiSalvo Technologies, LLC
2303 Wintermere Pointe Dr.
Winter Garden, FL 34787
Cell: 407-497-4075
john.disalvo@disalvotech.com
http://www.disalvotech.com
"Providing top quality solutions with premium customer support!"