Protecting Time® LLC, the nation's preeminent resource for productivity enhancement in small enterprise, announces the availability of the Interruption Analyzer.
Developed in partnership with DiSalvo Technologies, the Interruption Analyzer is designed to help users better control time spent on workplace interruptions.
Manhattan-based Protecting Time® and Florida-based DiSalvo Technologies intend to market several Protecting Time® iPad applications during the second half of 2010.
"Executives and staff members alike waste hours daily on interruptions," says Protecting Time® founder Jim Moore.  "All of us have the opportunity to stop interruptions before they happen.  To do that, we have to know the source of the interruption – someone walking into your office, an e-mail chime, an unplanned telephone conversation.  The Interruption Analyzer allows users to see at a glance how much time they're losing to interruptions.  Identifying the cause is 90% of the challenge of recouping all that lost time."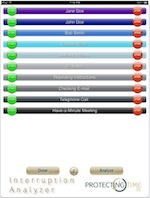 First made available in a Protecting Time® program entitled Protecting Professional Time, the Interruption Analyzer allows the user to create interruption "timers" up to six staff members, and has built-in times for "have-a-minute" encounters, e-mail interruptions, unplanned telephone calls and repeating instructions.
"Users will be amazed at how much time they spend daily handling interruptions," Moore says.  "Every time you're interrupted, you require from 45 seconds to 16 minutes to refocus on the task at hand.  If you're interrupted a dozen times a day, the sheer amount of time required to get back to what you were doing is staggering.  "
Developer John DiSalvo notes that the Interruption Analyzer keeps track of time spent on specific personnel- and task-oriented interruptions throughout the workday.  "At the end of the day," says John DiSalvo, "the user is presented with a tally of time spent for each interrupting individual or category, along with practical suggestions for better time management.  At $2.99, this application represents a superb investment and will pay for itself several times over the first day it is used."
Protecting Time® markets innovative productivity-enhancement programs for physician offices, dental practices, law firms, chiropractic staff, management teams and executives, and is represented by a national network of authorized Licensees.
DiSalvo Technologies is a software development company based in Orlando, Florida.
Download the app now:
http://itunes.apple.com/app/protecting-time/id373454208?mt=8
Contact: http://www.protectingtime.com